Conceiving the Designs for the 1981/1983 Jersey, Channel Islands, Coin Issues

By Ian Monins
© Copyright 2001

My interest in numismatics stemmed from a visit to a one man barbershop in the 1960s in Reading, Berks., U.K. at which time I was managing a company with some 30 odd outlets for retailing children's wear. I paid the barber with coins from my pocket and, noticing that he was looking at them carefully before putting them in his till, I asked him if he thought that any of them were forgeries. He replied "Oh no! I always check my change and put aside anything of numismatic interest which I later sell to coin dealers to pay for my annual vacation. Last year I had a very enjoyable holiday in the Caribbean."

In these pre-decimalisation days in England one could readily find early Victorian coins in one's change and there were local coin auctions and small back street coin shops offering choice items for collectors. Numismatics became my hobby and I decided to specialise in the coins of the Channel Islands where I took my family for our holidays in Jersey. The mintage figures were very low and yet the coins were readily available and inexpensive so that one could complete a collection starting from the silver tokens of the States of Jersey dated 1813 or, if one could afford it, the rare Guernsey issue of the Bishop de Jersey five shilling token of 1809. Coins had only been issued spasmodically as the need for them arose and then only in copper and bronze denominations that further reduced the dates required to be collected.

Closer study of these coins disclosed a surprisingly large number of variations in such limited mintages and I pointed some of these out in letters to coin magazines. This resulted in correspondence with several other collectors one of whom nominated me as a Fellow of the Royal Numismatic Society. Towards the end of the 1960s the opportunity presented itself for me to move with my family to Jersey before restrictions were imposed on anyone taking up residence there. We moved.

The English government was considering the introduction of a £1 coin to replace the £1 banknote as the useful life of a coin was many times that of a banknote. They approached the States Treasurers of Jersey and Guernsey to see if they would introduce such a coin to test public reaction before embarking on a U.K. issue. As a consequence I was asked if I would become Coin Adviser to the Jersey States Treasury and suggest designs for such a Jersey coin.

Previously special Jersey coin and medallion issues had commemorated important events in the Island's history. As the proposed date of issue coincided with the bicentenary of the Battle of Jersey in 1781, when the garrison troops and the Jersey militia repulsed a French invasion, I suggested that this should be the theme for the reverse of the coin. Rather than have a battle scene I decided on a simple design depicting the cap badge of the Jersey militia. In order to avoid confusion with existing coinage, especially for those with sight difficulties or in dim light, I reverted to a square shape with rounded edges, which had been used by Guernsey for its 1966 Norman Conquest commemorative ten shilling issue. I loaned a Jersey militia cap badge to the Royal Mint with a rough sketch of the proposed coin with the badge between the dates 1781 and 1981 and the appropriate legends for the obverse and reverse. The Mint artist sent four suggestions for the final design from which one was chosen.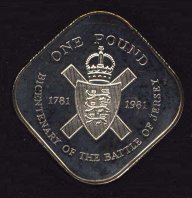 Although this square one pound coin was well received locally and circulated freely, the United Kingdom, after consultation with manufacturers of coin operated meters and machines, decided to adopt the general shape of the Guernsey one pound coin which had been simultaneously introduced with that of Jersey.

The marriage of the Prince of Wales to Lady Diana Spencer was commemorated by an issue bearing portraits submitted to issuing authorities by the Royal Mint. This was to be "Crown" size but the cost of production would mean that the Island's Treasury would suffer a loss if its face value was 25 pence, the equivalent of the pre-decimal five shillings denomination for a "Crown". Consequently it was denominated two pounds, as it was so much larger than the new one pound coin, and it was struck in nickel silver which had a gold like appearance.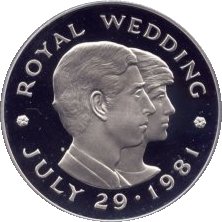 The Royal Mint announced that a coin with a new denomination of twenty pence was to be introduced. I was taken on a tour of the Mint in Wales and saw all the stages of production as well as the special methods used in producing proof coins. There was also a fine collection of specimens of medals and medallions relating to Jersey and I was introduced to the curator of the Mint's museum and archives.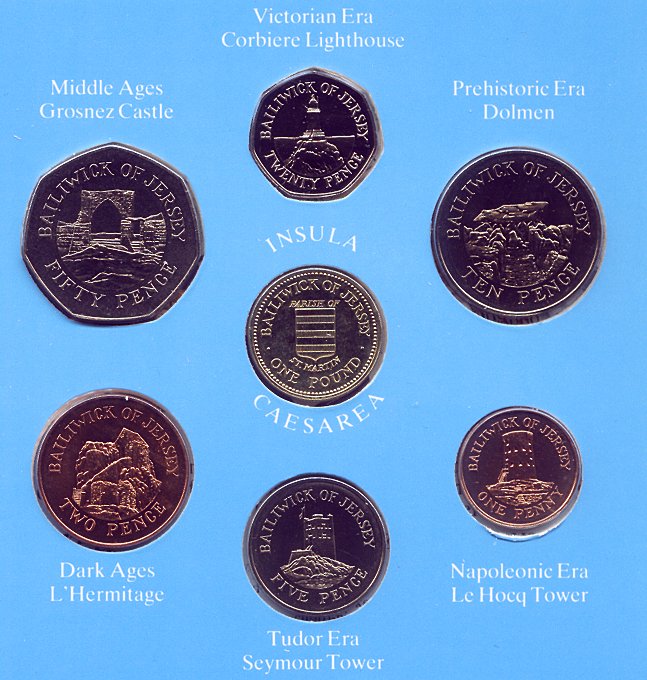 Considering the pattern for the seven sided twenty pence coin, I realised that new reverse designs for all the circulating coins in Jersey would be appropriate for these decimal issues. Ancient Greek coins depicted emblems signifying where they had been struck and this provenance made them acceptable for commerce. I thought that the reverse designs for Jersey coins could visually depict the Island's history and set about taking photographs or making rough sketches of suitable subjects. These would be pocket ambassadors for our Island.

Pre-History       The Dolmen or Neolithic Tomb at Faldouet              10p
Dark Ages         L 'Hermitage, cell of St. Helier at Elizabeth Castle   2p 
Middle Ages       The Gatehouse of Grosnez Castle                       50p
Tudor Times       Seymour Tower, a sea-girt defense from invasion        5p
Napoleonic Wars   Le Hocq Watch Tower, against Napoleon's troops         1p
Victorian Age     La Corbiere Lighthouse, the 1st made of concrete      20p

Corbiere Lighthouse was selected for the twenty pence piece with date 1982 incuse in the rocks upon which it stood. All later issues have the date on the obverse.

For the reverse design of the one pound coins I suggested that the emblems of the twelve Parishes into which Jersey is divided should be used and that they should be issued biannually so that the whole series would take six years. These would be issued in order of their respective populations.

1985 was the 40th anniversary of Jersey's Liberation from German occupation and it was considered appropriate to issue commemorative coins of 50 pence and two pounds. For the fifty pence I made a rough sketch of the crossed flags of the United Kingdom with a broken chain underneath, which the Royal Mint turned into an acceptable design. The two pounds coin allowed me greater scope and I suggested that H.M.S. Beagle, on which the German surrender took place, should be depicted and to give it greater emphasis the ship should extend through the area normally reserved for the legend. As a special mark of respect for the occasion I recommended that 40 gold proofs only should be struck in Crown size and these were all subscribed for by the time of issue. Her Majesty allowed these coins to be struck with an obverse bearing the crown as had been the custom in the Island's pre World War II coinage.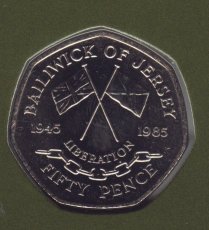 Since their inception proof strikes of Jersey's coinage have existed. In the early days these were made at the special request of numismatists to have an example of a perfect strike of a coin issue. It was also felt that such a proof coin was best exemplified by being struck in a precious metal.

Many of the subsequent commemorative issues were made at the instigation of the Royal Mint to tie in with its worldwide series of coins for Commonwealth countries. Jersey participated in these issues when it was considered that they had specific significance for the Island or to its allegiance to 'Our Duke of Normandy' as Her Majesty is known locally.