Richard Sainthill
Copper Tribute Medal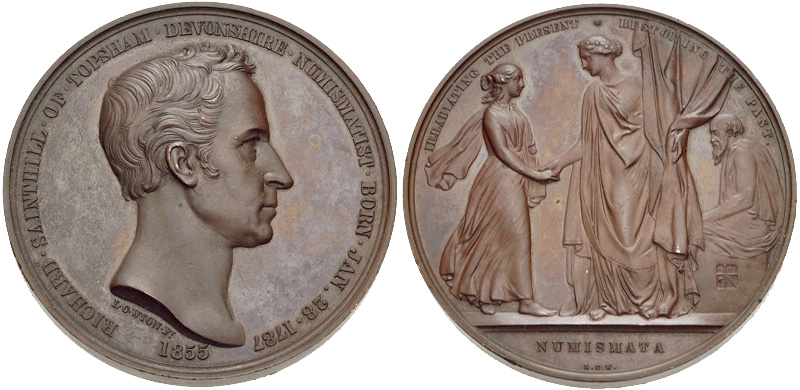 A nice description of this medal can be found in the article The Medallists Of Ireland And Their Work by William Frazer, F.R.C.S.I., in the "Journal Of The Royal Historical And Archæological Association Of Ireland" Volume VIII 4th Ser. 1887-88, page 324.
RICHARD SAINTHILL, OF TOPSHAM, DEVONSHIRE, NUMISMATIST, BORN JAN. 28, 1787. Thus inscribed around a portrait of Mr. Sainthill; beneath the neck is the date 1835, and, in minute letters, L C WYON FT. Reverse.- Three emblematic figures; Numismata, typified by a female, standing, who draws back a curtain and reveals an aged man, the emblem of time past, seated on a treasure box, marked with inscribed square and Greek letters; in front, a young female, emblematic of present time, joins hands with the central figure. In exergue, NUMISMATA, and in small letters, L C W. Inscription, HERALDING THE PRESENT. RESTORING THE PAST.

Size, 2·4. This is an extremely beautiful example of what a good medal should be. The figures, which are in low relief, are engraved in superior style, and the portrait of Mr. Sainthill leaves nothing to be desired. I owe my impression to the kindness of Alderman Day, of Cork, who obtained it from Mr. Sainthill's relatives. It was struck for private distribution by the well known author of Olla-podrida, a learned numismatist and genealogist. The impression is a bronze proof.
Richard Sainthill, a wine merchant, antiquarian, coin-collector, and the Commons Speaker of Cork Corporation, was born in Topsham, Devon in 1787. In 1801, he came to Cork to join his father, also Richard Sainthill, who was the 'agent for transports afloat in Cork', responsible for arranging shipment for those sentenced to transportation to New South Wales. He died in Cork on 13 November 1869 and is buried in the graveyard at Rathcooney. Between the years 1844 and 1853 Sainthill published Olla Podrida; or Scraps, Numismatic, Antiquarian, and Literary.

This medal is British Historical Medals (BHM) #2571.


---
Return to Part 1: The 1812, 1813, and 1814 Tokens
---